Americans David Thompson and Rebeccah Wassner lead the Lifetime Fitness Triathlon Series Race to the Toyota Cup with four of six races in the books.
Thompson's lead of 29,000 points comes thanks to a second place finish at the Philadelphia Insurance Triathlon (which was actually a duathlon), a seventh place finish at the Lifetime Fitness Triathlon in Minneapolis, a second place finish at the Nautica New York City Triathlon and a fourth place finish at the Lifetime Chicago Triathlon.
The Czech Republic's Filip Ospaly sits in second place, thanks in large part to a victory at the NYC Triathlon. Thanks to a win at the Lifetime Fitness Triathlon in Minneapolis, last year's Toyota Cup Champion Matt Reed sits in third.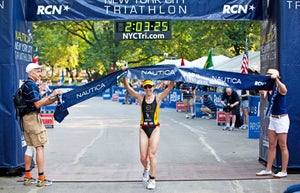 On the women's side, Wassner holds her lead with a series that has so far included a DNF in Philadelphia, a second place finish in Minneapolis, a win in New York City, and a fifth place finish in Chicago. Another American, Nicole Kelleher, sits in second. Rebeccah's twin sister, Laurel, hold the third spot in the rankings. Reigning Toyota Cup Champion Sarah Haskins sits in fourth, 5,000 points behind the leader. Because Haskins is focusing on the ITU World Championship series, her 20,000 points come solely from two victories in the two races she has entered (Minneapolis and Chicago). The women's standings look to open up after the Kaiser Permanente Los Angeles Triathlon on Oct. 3. Both Wassners will be competing across the country at a different race, leaving the door open for their fellow competitors.
The series will wrap up at the Toyota U.S. Open Triathlon in Dallas, Texas on Oct. 10.
Men's Standings
1. David Thompson (USA) 29,000
2. Filip Ospaly (CZE) 25,000
3. Matt Reed (USA) 21,000
4. Andrew Starykowicz (USA) 10,000
5. Joe Maloy (USA) 10,000

Women's Standings
1. Rebeccah Wassner (USA) 25,000
2. Nicole Kelleher (USA) 23,000
3. Laurel Wassner (USA) 22,000
4. Sarah Haskins (USA) 20,000
5. Mary Beth Ellis (USA) 18,000