Olympian Matt Reed will make the jump up to the Ironman distance for the first time this fall when he competes at Ironman Arizona in Tempe, Ariz. on Nov. 21.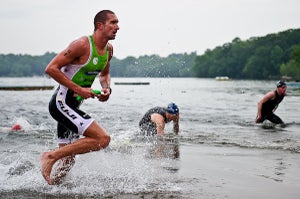 Reed confirmed the decision on the Competitor Radio podcast with Bob Babbitt.
"My wife and I sat down and talked about it and I've decided to do Ironman Arizona at the end of the year," Reed explained. "It's the end of the season. Clearwater is something that has been on my mind all year. I'll go back there with intentions to win it and then have the Ironman after that to close out the season."
Reed also discussed his disappointment with not being able to go after the Rev3 Triathlon Series bonus available if an athlete could win all three series races. After winning the Rev3 Knoxville race in May, Reed was eligible, but a third place finish at Rev3 Quassy eliminated the bonus possibility.
"I wanted to do (an Ironman) this year, and I was hoping it would be the Rev3 Cedar Point race, but it wasn't to be," said Reed. "I got beaten by Craig Alexander and Terenzo Bozzone at Quassy. That was a big disappointment for me. That series was something I really wanted to win. I had to change my season around after that."
Babbitt also asked Reed about the possibility of going after another slot on the U.S. Olympic team.
"To be honest with you, I've lost a little bit of interest," he stated. "It's there if I want to do it. The possibility is there for me to still do it. I've lost a bit of a love for the drafting racing."