It's been over a year since the Revolution3 Triathlon Series made its successful debut in Connecticut. The series will reach a new milestone this weekend when it takes on its first attempt at a full-Rev distance race.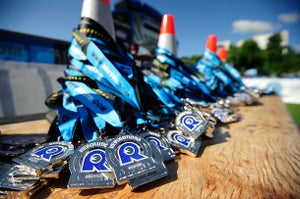 Hundreds of triathletes, both professional and amateur, are headed to the famous Cedar Point Amusement Park in Ohio. They'll be taking on the wild ride of a 2.4-mile swim, a 112-mile bike ride and a 26.2 mile run.
Despite its close timing to October ninth's Ironman World Championship, the Rev3 Cedar Point event has attracted a diverse professional field.
While it's hard to say who will win the men's race, we can be fairly confident in who will be leading heading onto the run. Swedish super cyclist Bjorn Andersson will likely take his usual place at the front of the cycling pack and hope to hold his lead through the run. He will have several challengers. American James Cotter took his first 70.3 win back on July 31st and will be looking to ride that momentum to the finish line of this race. Another contender is Ukraine's Viktor Zyemstev. Zyemstev won Ironman Canada two weeks ago and will be racing on tired legs. Zyemstev is one of the fastest runners entering the race and, if he has been able to recover in less than two weeks, he could take the top spot on the podium again. Other athletes to watch include Australia's Jason Shortis, Australia's Matt White, New Zealand's Keegan Williams, the United States' David Thompson and South Africa's James Cunnama. Both Andersson and Thompson will have extra incentive on Sunday, as they are both contenders to take the overall series win and take home some extra prize money.
The women's race will likely be between New Zealand's Samantha Warriner and the United States' Amy Marsh. Warriner currently leads the Rev3 Triathlon Series standings, but this is her first attempt at the Ironman distance. Marsh, on the other hand, is an Ironman veteran who has already experienced victory at this distance in 2010 with wins at Ironman China and Ironman Lake Placid. Marsh will be toeing the line at Cedar Point instead of defending her 2009 Ironman Wisconsin title.
The race will be live streamed at Rev3tri.com/live. Coverage begins just before the professionals take of at 6:50 a.m. EST.
See the complete starting list below:
Men
David Thompson
Eric Limkemann
Mike Caiazzo
Heath Thurston
Matthew White
Dominic Gillen
Bjorn Andersson
Jeff Paul
Billy Edwards
James Cotter
Adam O'meara
Joe Mcdaniel
Ian Young
Keegan Williams
Paul Wisniewski
Viktor Zyemtsev
James Cunnama
Kirk Nelson
Tyler Lord
Brendan Halpin
Raymond Botelho
John Hirsch
Jason Shortis
Scott Defilippis
Tim Reed
Zach Ruble
Jemani Francis
Daniel Bretscher
Women
Mariska Kramer
Paolina Allan
Karen Melliar-Smith
Nicole Van Beurden
Teri Albertazzi
Jessica Jacobs
Kate Pallardy
Jacqui Gordon
Anne Fallows
Lauren Harrison
Danielle Sullivan
April Lea Gellatly
Amy Marsh
Kathleen Calkins
Samantha Warriner
Katya Meyers