Bike manufacturer Quintana Roo unveiled its Project Illicito frameset this week at Interbike. One of QR's five current projects in development, Illicito showcased some innovative new features, such as only one seat stay.
Written by: Bethany Leach Mavis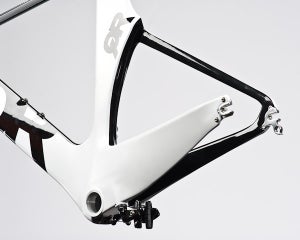 The frameset prototype was developed based on QR's CD0.1 bike as part of their "fourth generation of triathlon bikes," according to Mac McEneaney, the director of North American sales. The first generation was the original Quintana Roo, followed by an evolution in aerodynamics about eight years ago for the second generation. The third generation, when manufacturers started integrating frames. "There's a fourth generation out there," McEneaney says. "Creativity and ingenuity are the best way to go."
The thought process behind the design of Project Illicito was to drive the air to the clean side, or non-drive side, of the frame rather than over the "jagged metal" of the component group. To that end, QR designers removed the seat stay on the non-drive side and shifted the downtube 18 mm toward the drive side to be able to force 80 percent of the accumulated air off the front wheel to the non-drive side to reduce drag.
McEneaney wouldn't say whether the Illicito will ever become a production bike in the future, but as of right now, QR is looking at it as a project not a product. The frameset prototype is currently rideable and might be seen on the Big Island being tested in a couple of weeks.
The unique design of Project Illicito is drawn from the freedom that comes with designing triathlon bikes instead of road bikes. "We're not constrained by UCI rules, so we can try new things, such as taking off a seat stay," McEneaney says. "QR cares about triathlon, and we're here for triathletes, who are always accepting of new and interesting ideas."