On September 2, TYR made its Kona-legal Torque Elite and Torque Pro swimskins available to consumers, and now at Interbike, TYR explained the unique features that have made these swimskins fly off the shelves. "We can't make them fast enough," says Ryan Dolan, the triathlon sales and promotions director.

Written by: Bethany Mavis
The non-bouyant, non-plastic swimskins can be worn over race suits, and the Torque Pro will be seen at the Ironman World Championship in Kona on October 9 on pros such as Andy Potts, Chrissie Wellington, T.J. Tollakson, Julie Dibens and Mirinda Carfrae.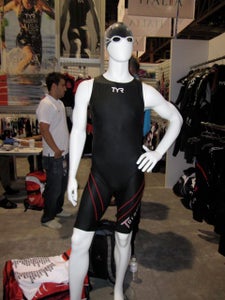 The Torque Pro is made of knit polyester and is basically the fabric (non-neoprene) version of the popular Sayonara swimskin, Dolan says. The outer fabric is hydrophilic and has the same drag coefficient of the Sayonara. Rather than absorbing water, the fabric actually works with the water, much like the skin of a dolphin feels slimy. The Pro also has a hydrophobic inner layer, which makes it have a 0.5 percent water absorption rate. The Pro is available for $350 through retailers and online.
The Torque Elite, which retails for $250, is made of a woven Lycra-nylon fabric, which is durable and compresses the body to reduce drag in the water. Other than at the arms and the legs, the seams are bonded to further lower drag. Plus the fabric is hydrophobic inside and outside, which, as Dolan demonstrated, forces the water to bead and roll off.
The World Triathlon Corporation (WTC) rule to outlaw swimskins in Kona went into effect on September 1, the first day of the Ironman and Ironman 70.3 season, and TYR made its Torque swimskins available the next day. By Sept. 6, TYR had sold out of its stock of Torque Pros.
According to Dolan, the new WTC rule didn't affect the company. "We're experts on fabric," he says. "We have 45 different types of fabrics that are FINA-approved… I think we're so ingrained in the technical suit market that we can react quickly to a new rule."