This week, Shimano had its entry-level road 105 groupset, new for 2011, on display, and Shimano's Devin Walton took the time to share a few of the changes to its value-oriented parts kit with Triathlete.
Written by: Bethany Leach Mavis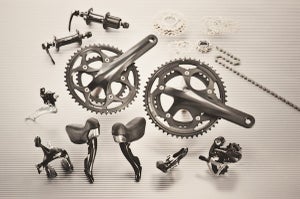 In terms of performance, Walton says that riders won't notice much of a difference between the new 105 kit and its predecessor, but that's something that Shimano strives for: making sure that each product meets its performance standards. From the previous generation 105, Shimano shaved almost 30 grams of weight from the component kit, and the group is now available in both black and silver.
105 differs from Ultegra in that it has aluminum lever blades instead of carbon on the road shifters, but it still has the 10-speed system and the standard double, triple and compact chainring configurations. Shimano makes only one cable-actuated triathlon shifter, so 105 uses the same shifter as Shimano's flagship Dura Ace group.
Walton emphasizes that Shimano is constantly working to improve overall efficiency and while it is important to save weight, more important than that is balance between weight, functionality, efficiency and longevity. Walton says Shimano engineers hypothetically could have removed more than 100 grams from this kit, but that would have been at the expense of front shift quality and component longevity.
Walton says that the new 105 groupset is for a person that's just getting into the sport, allowing them to get the best performance at a better value. "For a person that rides a ton of miles every week, it won't last as long as the Ultegra and the Dura Ace," says Walton. "But at this price point, it maximizes how far a person can get down the road with each pedal stroke."
See more images of the Shimano 105 Groupset from Triathlete Photo Editor Nils Nilsen below: