Rolf Prima is expanding its wheel offering for triathletes with the new TT85s. We talked to Rolf Prima's Brooke Bauer about the unique paired spoke lacing pattern of the wheels, which will be available in November of this year.
Triathlete.com: Walk me through some of the features of the new TT85s.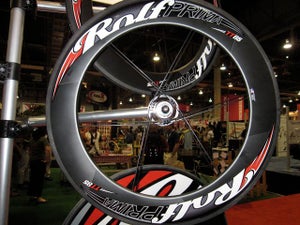 Brooke Bauer: It's new for us to go this deep at the 85 millimeters. We've been doing the 58mm depth for four or five years now. We've taken the technology from the 58 and worked with a deeper-sectioned rim for more aerodynamics. We've always done the TT wheels with 10 spokes in the front and 12 in the back and that's what we've carried over to the 85. We've been working with our pro triathletes on this to get a more aerodynamic wheel. It's all about getting faster.
Triathlete.com: What is the advantage of the paired spoke lacing pattern?
Bauer: We own the patent on spoking the wheels at the rim. Traditional wheels are laced left and right around the rim. With that technology you can only reduce the number of spokes by so many before the wheel stops holding true. With the pairing technique they cancel each other out on the left and right pulling tensions, allowing us to build a wheel with two to three times the tension of a traditionally laced wheel. It's a stiffer wheel with fewer spokes, creating a more aerodynamic wheel.

Triathlete.com: Are there any durability consequences to having fewer spokes?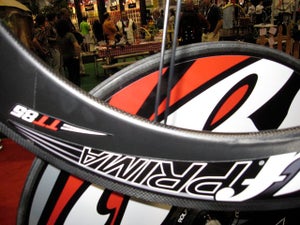 Bauer: No. With the higher tensions that we're holding, we are actually creating a more durable wheel. As the wheel rotates and comes in contact with the ground, your spokes are going from full tension to zero tension. With more tension in your spokes, every time it goes down in tension. Our spokes aren't going down nearly as much as other wheels. We aren't stressing the spokes, the nipple and the rim as much as the traditional wheel.
Triathlete.com: What professional triathletes can we expect to see riding these TT wheels?
Bauer: Heather and Trevor Wurtele. We're working with Gina Crawford, who just won Ironman Wisconsin on our 58's. Hunter Kemper will be riding. We have lots of pros interested in riding them.
Triathlete.com: You mentioned that the wheels are stiffer. Does this affect the comfort level of the ride?
Bauer: We've worked on that. It's not a rigid ride at all. Some of that has to do with the lower spoke count. Even though it is a very stiff wheel, I've never heard any complaints on these wheels in terms of being rigid. It's a nice, fast, comfortable ride.

Triathlete.com: When will they be available and what's the retail?
They'll be available in early November for $2199 for the set.