Garmin is one of the leaders when it comes to GPS technology in cycling and multisport, so it comes as no surprise that they are the first company to release a touchscreen GPS bike computer. We caught up with Garmin's Jake Jacobson to find out more about the new Garmin Edge 800.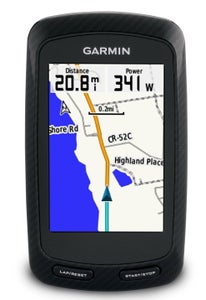 Triathlete.com: Can you walk me through some of the features of the Edge 800?
Jacobson: The first thing you'll notice is that is a touchscreen with GPS. We've taken the best of both worlds and put them together. It has the styling of the Edge 500, but with the size and color mapping of the Edge 70. It's still compatible with all of the ANT+ power meters. Because it is GPS it tells you how far and how fast you've ridden. It saves all of your routes so you can upload them to Garmin Connect, and you can even do routable courses with turn-by-turn directions. It's great for performance and navigation.
Triathlete.com: When will this be available to the public?
Jacobson: It will be available in early November. So we're just about six weeks away.

Triathlete.com: Garmin just announced the purchase of Metrigear. What will that mean for what will be available in the future?
Jacobson: The Edge 800 is already compatible with all of the ANT+ power meters out there. What Metrigear will allow us to do is bring the Vector, the pedal-based power meter to market and it will also be ANT+. It will work with Edge 800, Edge 500 and all the way to Edge 705.

Triathlete.com: Aside from the touchscreen, what makes this unique to other GPS units?
Jacobson: What's unique about the Edge 800 is that the touchscreen makes it extremely easy to use. It's glove friendly, so even if you're wearing big winter gloves it is still easy to use the screen. To be able to bring the ease of use of our automotive devices to the cycling side has really shown our commitment to fitness products.
Triathlete.com: The product looks very classy and sleek, but how will it hold up durability wise when it's attached to a bike?
Jacobson: It is very rugged. We've been around for 20 years. Our devices have been used in Iraq and Afghanistan. Putting it on the bike is an easy transition for us. It will hold up on the road, in the mountains, cyclocross and in all weather conditions.
The Garmin Edge 800 will retail for $449.99.