Saturday's IronKids Boulder race marked the triathlon debut of two youngsters with champion lineage. Lucy Alexander, daughter of Craig and Nerida Alexander, and Jamieson "Jamo" Legh, daughter of Chris and Sarah Legh, both toed the line on a sunshine-filled day at the Boulder Reservoir.
Written by: Holly Bennett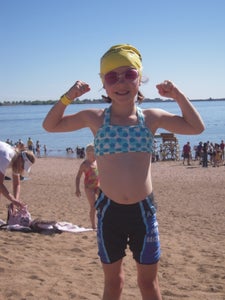 Lucy, racing in the 6-8 year-old Junior division, tackled the 50-yard swim, 2-mile bike and 500-yard run with the same competitive drive as her famous father. "The bike was the hardest part," she reflected, after downing a bottle of icy cold water at the finish, "because it was so long. Then on the run, I got a stitch and had to walk for a bit. But then I ran again and beat somebody by two minutes. Um, I mean two seconds."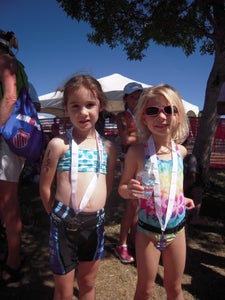 Five-year-old Jamo was next on course, accompanied throughout the 25-yard swim, .35-mile bike and 250-yard run by proud papa Chris. Lucy also jumped back into action to help pace her little buddy, running alongside Jamo during the bike and run legs. In true professional style, Jamo made a point of donning her pink Bolle sunglasses as she headed onto the run, a perfect fashion match for her flowery race suit. After finishing, a breathless Jamo admitted, "I'm exhausted!"
It was certainly a great day for the next generation of triathlon superstars.