American triathlete Kelly Williamson postponed her first ever 70.3 victory by a couple minutes in an effort to help fellow professionals get paid.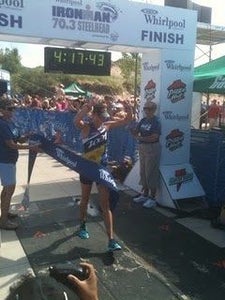 The current rules of the World Triathlon Corporation require that an athlete finish within eight percent of the winner's finishing time in order to earn prize money.
While this rule has been removed for all competition starting in September, the rule was still in effect at Sunday's Ironman 70.3 Steelhead race in Benton Harbor, Mich.
Williamson reached the finish line with a nice lead over second place competitor Heather Jackson. Instead of crossing the finish line right away, Williamson sat at the finish line with the hopes that the prize money would go down the list as far as possible.
In her race report, Williamson commented on the decision:
"As I approached the finish line, I figured why not take this opportunity to at least try to allow us to all get a paycheck. I did not know the exact spread, but when I came to the line, the clock said "4:15" (which was 4:13 as we had gone 2 minutes back) and upon a quick calculation, I realized this was going to mean they would need to be within about 18 minutes. I slowed down, high fived a few spectators, then about 5 meters from the finish line, stopped and waited. People looked around, a bit confused, but I knew what I was doing and simply held there for 2 minutes or so. Not knowing the exact spread, and knowing that Heather was likely not too far behind, I decided not to push my luck too much and crossed. While a bit anti-climactic for my first 70.3 win, it still felt incredible to break the tape, while also showing some respect to my fellow competitors."
Here's a look at the finish times of the top five women:
Women
1. Kelly Williamson (USA) 4:15:41
2. Heather Jackson (USA) 4:18:51
3. Karen Smyers (USA) 4:29:25
4. Annie Gervais (USA) 4:29:26
5. Andrea Hutchins (USA)4:37:53 *
* Did not earn prize money.
Click here to learn more about the 8% rule and here to learn more about the new rules that will start Sept. 1.