The highly-anticipated announcement of the selection process for the triathlon team for the 2012 London Olympics took place today.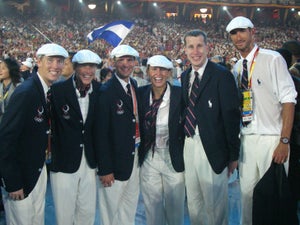 The ITU World Championship series race on the Olympic course in London on August 6-7, 2011 will be the first chance to qualify. The top two male and female American finishers will automatically receive spots on the team. The catch is that both athletes must also finish in the top-nine overall.
If there are spots remaining, the next spots will go to the top male and female of a yet-to-be determined ITU race in early 2012 (also given that he/she finishes within the overall top-nine). If the U.S. has earned spots beyond those handed out in those two events, a selection committee will determine the final Olympians.
One interesting caveat included by USA Triathlon is the following statement in the rules: "If necessary, discretionary selections could entail potential medalists or an athlete who can assist the medal-potential athletes through specific team tactics."
Another major difference is there will be no formal U.S. Olympic Trials race. All athletes will have to qualify at an ITU World Championship or Cup race, or must be selected by a committee.
Click "next page" below to see the press release from USA Triathlon.