American Mark Fretta ran by his competition to take the biggest win of his career, while fellow American Sarah Haskins defended her 2009 title to show she is the top American at this distance.
As the thousands of age group participants finished up their day, the professionals jumped into Lake Michigan for a rare afternoon start. The afternoon start allowed for other competitors to stick around and watch the pro race, but it also meant extremely hot and humid conditions for the sport's top athletes.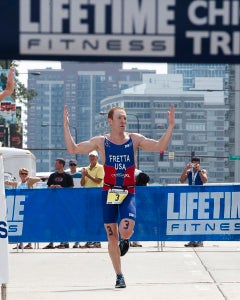 American Cameron Dye started the day off out front with a 20:23 swim. Next out of the water were Americans Fretta and Kevin Collington. With a nearly half mile run from the finish of the swim to the first transition, positions were shuffled. Dye continued to lead, but American Matt Reed found his way to second position heading onto the bike. With Dye holding firm on the lead position, the rest of the top ten continued to shuffle all the way through the 40-kilometer bike ride. Dye's 55:31 was the fastest on the day. Despite the strong swim and bike, Dye's lead didn't last too long once he took to the run course. The American has struggled with injuries throughout the season and has seen his lead fade away on the run course multiple times this season. With Dye's pace slowing, Fretta took control at the one-mile marker of the run. His 35:08 run time earned him the victory at 1:52:22. Collington ran the fastest 10k of the day at 34:29 to earn second. The Czech Republic's Filip Ospaly held steady throughout all three legs to finish in third. Lifetime Fitness Triathlon Series leader David Thompson earned valuable points, finishing in fourth.
Despite some challenges early on, Haskins dominated the majority of the women's race. Two of the fastest swimmers in the world in Sara McLarty and Hayley Peirsol led the pack out of the swim in 20:53. Haskins was next out twenty seconds later. The next women out of the water was Rebeccah Wassner, nearly two minutes behind the top three Americans. Once on the bike McLarty and Haskins replicated their battle from July's Lifetime Fitness Triathlon, with Haskins gaining the slight edge heading into T2. From there it was all Haskins. She turned in a 39:17 run time to take her second-straight win on this course in 2:02:02. Another American, Jillian Petersen, ran her way to second position. American Laurel Wassner made in all-American podium for the women, finishing in third at 2:07:36.
Click here to view a photo gallery from the race.

Chicago Triathlon
August 29, 2010 – Chicago, Illinois
1.5km swim, 40km bike, 10km run

Men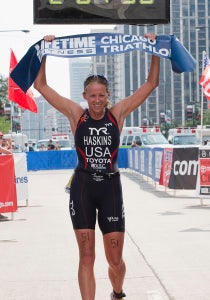 1. Mark Fretta (USA) 1:52:22
2. Kevin Collington (USA) 1:53:05
3. Filip Ospaly (CZE) 1:53:54
4. David Thompson (USA) 1:54:16
5. Chris Foster (USA) 1:55:23
Women
1. Sarah Haskins (USA) 2:02:02
2. Jillian Petersen (USA) 2:05:08
3. Laurel Wassner (USA) 2:07:36
4. Nicole Kelleher (USA) 2:08:50
5. Rebeccah Wassner (USA) 2:09:52