According to a New Zealand newspaper,  Bevan Docherty has decided not to race in the ITU World Championship Series Grand Final in Budapest, Hungary on September 12.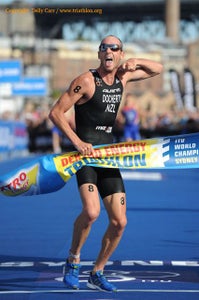 Docherty kicked off the season on a strong note, winning the first WCS race of the season in Sydney, Australia back on April 11.
He went on to finish seventh at the Seoul event on May 8. At the end of June Docherty made the decision to travel to the United States to compete in the first race of the Lifetime Fitness Triathlon Series, the Philadelphia Triathlon. After the race was turned into a duathlon to due a death in the lake the previous day, Docherty took the win and briefly held the series lead.
Docherty told the New Zealand Herald that the decision to race in Philadelphia likely changed the entire outcome of his season: "After the win in Philly I never recovered," Docherty said. "It's still not over for me this year, just the WCS. I'm going to have a two-week break to recharge the batteries and then get into some training for the last few races of the US season."