TM: Do you believe a Kona winner has to focus solely on that race now in order to succeed?
TB: Yes. Currently I consider myself to be a tier two athlete. To become a tier one athlete I would say I have to win at least four 70.3's in the span of 18 months or get top 10 in Hawaii. Within the pro ranks, we all know who the tier one and tier two athletes are . The tier ones being Chris McCormack, Craig Alexander, Normann Stadler, Tim Deboom, and really anyone who has one or podiumed in Hawaii. They all schedule their seasons around October.
TM: Talk a little bit about your background. Do athletics run in your family?
TB: My family has been a huge influence in my life. I was born and raised in Bermuda and my dad was born and raised there too. He went to the 1981 Hawaiian Ironman and was 7th and got the run record. That is a huge goal in my life, to get top ten and get the run record. He ran 3:05 and the next fastest that year was 3:19 by Scott Tinley. The next year Dave Scott got the record with 3 hours flat but my dad was the fastest for his year and also lowered the run times in that race significantly. When I was little I saw him ride his bike and running in only a speedo and he also told me they used to be weighed throughout the course to make sure they weren't losing too much weight.
My parents started the triathlon and road running associations in Bermuda. My mom (Tyler prounces it 'MUM') finished 4th in the Boston Marathon which was the only trophy of theirs I admired when I was young. I found it when I moved up into the attic when I was a teenager and told her I thought it was a cool trophy. I looked it up online and found her result. It was the year they didn't pay professionals prize money so quite a few of them boycotted the race, but her personal best at the marathon was a 2:38.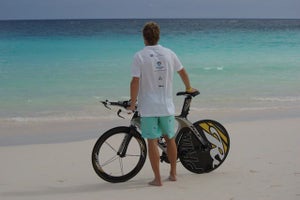 TM: Did your dad share much insight from his racing when you were a kid?
TB: The most memorable thing he ever told me was, 'when you lose say little, when you win say less'. I try not to be the kind of person who when I lose I come up with excuses as to what went wrong during the race. My parents raised me urging me to enjoy everything I was doing which has keep me in the sport.
I grew up with a lot of kids in Bermuda who were winners at a young age, but suddenly you start traveling to the US and Europe and you get anhilated and you get frustrated and quit. My parents always pushed for participation and enjoyment. We all see kids who are pushed into winning and as soon as they meet a bump in the road and are challenged then they quit.
As a professional you need to win for your sponsors though so it is a difficult balance. You are not paid to be content with a 10th place finish, you are paid to get your sponsors names out there by winning. But you still need to have enough perspective when you finish off the podium you need to look at the positives.
TM: What was your athletic background?
TB: I did the Ironkids when I was seven. I have an older brother who is more talented than me. Every running race I won, he had run, and won, a few years before. I could win a race and he would tell me I was still slower than his times were and that kept me humble and didn't let my head swell. I realized at a young age that even though you might win a race, it doesn't mean you are the best.
When I was 17 I moved to Australia and did a year in school. Chris McCormack stayed at my house when I was a 14 year-old kid and said if I ever wanted to race against the best I should come down to Australia and stay with him and that he would help me out. I ended up going to the Gold Coast, instead of to Sydney where he was, and the reason was you could pay $20 and race world champions in sprint and super sprint races on the same course, and in the open category in the same race, and you could see where exactly how you compared to them.
TM: How long did you live in Australia?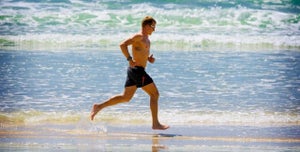 TB: I went to school in Australia in 2001 and stayed there in 2002 and became good friends with Brad Kahldefeldt. I did Junior Worlds and got a bronze medal there in a race in 2002 where Terenzo Bozzone won. He was a year or two younger than me and we all knew going into the race he was the guy to beat. Since I had been training in Australia, and he was from New Zealand, I knew of him. I had been training with the Australian national coach and he told me before the race there was only one person capable of running faster than me and that was Terenzo, and sure enough we ran shoulder to shoulder until 100 meters to go and there was a U-turn that turned into the finish stadium and we knew whoever made that turn first would win the race. The finishing carpet covered an area where the road turned to grass, and after Terenzo sprinted ahead, I decided to turn my head and look over my shoulder and I tripped and the French athlete, Dave House, overtook me and I finished third.
Click on the page numbers below to continue reading.