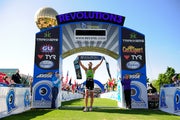 The United States' Matt Reed and Great Britain's Julie Dibens took the first race of the Revolution3 Triathlon Series in Knoxville, Tenn. The pair will have the opportunity to take the next step towards the $125,000 series' bonus on June 6 at the half-Ironman distance race in Connecticut.
Athletes were greeted with below-normal temperatures in the low 40s on race morning. Despite the frigid air, the water stayed above 70 degrees and the professionals were forced to dive in without wetsuits.
The beginning of the race was a matter of who could handle the freezing conditions. American Cameron Dye exited the down-river swim in a time of 15:05. A chase pack that included Reed was right on Dye's heels. Reed quickly went to work on the bike and maintained the lead in the early miles. Eventually he was overtaken by Sweden's Bjorn Andersson and the United States' Chris Lieto. Andersson pushed the pace through the windy course and headed onto the run with a 90-second lead over Lieto. Reed headed onto the flat and fast course with two and a half minutes to make up on Andersson. Reed ran a 32:53 10km to pass both Andersson and Lieto and take the win at 1:51:55. New Zealand's Terenzo Bozzone ran his way to second place at 1:52:42 in his fourth race in four weeks. Despite putting in a sprint effort to the finish line, Lieto settled for third at 1:52:48.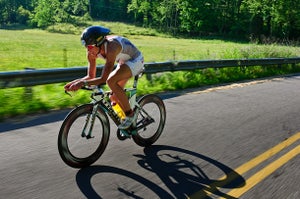 The shuffling that happened in the men's race did not happen on the women's side. Similarly to her performance at last week's Wildflower Long Course Triathlon, Dibens led from almost the beginning. Despite struggling with the cold conditions, Dibens exited the water in the chase pack and quickly went to work taking the lead in the first few miles. With Dibens in the distance from the beginning, it was only the United States' Rebeccah Wassner who managed to keep her in sight. It was not Wassner's day as she didn't even attempt the run due to an injury. With Wassner on the sidelines, Dibens cruised to the win at 2:03:48. New Zealand's Samantha Warriner turned in a fast 10km to earn second at 2:07:04. The United States' Kelly Williamson also had an impressive run, finishing third at 2:07:06.
Check back for complete results and a photo gallery.
Rev3 Knoxville Triathlon
Knoxville, Tenn. – May 9, 2010
1.5km swim, 40km bike, 10km run
Men
1. Matt Reed (USA) 1:51:55
2. Terenzo Bozzone (NZL) 1:52:42
3. Chris Lieto (USA) 1:52:48
4. Bjorn Andersson (SWE) 1:54:09
5. Cameron Dye (USA) 1:54:28
Women
1. Julie Dibens (GBR) 2:03:48
2. Sam Warriner (NZL) 2:07:04
3. Kelly Williamson (USA)2:07:06
*Results are unofficial.