Cadet Sullivan embodies that future potential. He's soaking up as much information from Rodriguez as possible while beginning his senior year as a civil engineering major. His passion for his school, his service and his team has also benefited the team's future. Fellow officers constantly contact Rodriguez expressing interest in supporting the team, and support from the Olympic Training Center in nearby Colorado Springs is on the rise. Olympian Hunter Kemper has taken the time to speak to the cadets in evening seminars, and his coach occasionally provides advice. Still, it would be helpful if USAFA officials would kick in the kind of support that Army and Navy have. "Give me more time with these cadets, and I can get them to a top-five finish at nationals," says Rodriguez.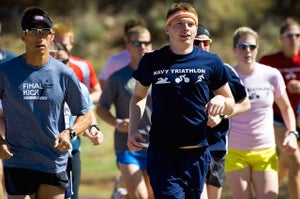 The cadets' future is as full of potential as their present. Cadet Morgan is looking forward to entering the Army either as an engineer or intelligence officer, and while Oskutis and Sharp are keen on jumping into future hot zones, Sullivan is looking forward to being the one getting them to the landing zone. Demonstrating that academy triathletes are just a little different from their peers, Sullivan hopes to pass on the fighter jets and bombers, opting instead for an HH-60 Pave Hawk helicopter or the peculiar tilt-rotor V-22 Osprey, both of which are highly specialized aircraft with few slots. The discipline and dedication fostered by triathlon will serve him well there; pilot training will obligate him to 10 years of service in the Air Force. Asked about the possibility of facing combat, none of the soon-to-be front line leaders balk. They all look forward to serving.
"I have a really strong desire to see what it's like," says Morgan. Sullivan is excited for the chance to lead. "I'm looking forward to working with an air crew to accomplish the mission. It would also be great if I could introduce my fellow officers and airmen to triathlon." Oskutis hates to leave triathlon behind, but is more excited about what's ahead. "When it gets right down to it, this is why we do what we do."
With attitudes like that, the future of these teams, the service academies and the entire country is in very capable hands. To borrow from another academy graduate, Gen. Douglas MacArthur, academy triathletes don't quit triathlon; they just go achieve bigger and better things.