Decision-making skills, particularly in life and death scenarios, are key during combat situations when there's a lot on your mind all at once.
That's exactly what happened to Air Force Academy graduate, and founding member of its modern triathlon team, Capt. Prichard Keely in April 2008. "At that point, it got very real," the weapons system officer said of the incident. "It was one of the most intense things I have ever experienced, knowing that those guys are getting shot at and knowing there are only a couple of things I can do to try to help them." Still, Keely, his pilot and the crew of the other plane kept it together and dropped ordnance on the enemy over the course of a three-hour marathon effort, contributing to a successful mission in which no Americans were killed.
For Cadet First Class Brendan Sullivan of Boston, New York, a family legacy of endurance in combat inspired him to attend the U.S. Air Force Academy in Colorado Springs, Colo. Both of his grandfathers served in World War II, one as a Marine aviator and another as a Navy corpsman who became a prisoner of war. His father served as a Marine and his brother, an Annapolis graduate and tri-team alumnus, is a Marine Corps officer. Learning from his brother's experiences, Sullivan wasted no time in joining USAFA's triathlon squad. Fourth Class Cadets at USAFA aren't allowed to leave campus until completion of the first quarter, so he had to wait until October to attend his first race. Facing the same military and academic obligations as his East Coast counterparts, Sullivan conducted his swims at 5:30 a.m., rushing to get back to his squadron by 6:30 for morning formation.
That's an hour to knock out 2,500 meters in the pool, change and make it a half-mile back to his room. If you think that's not cutting corners, consider this: Freshman cadets aren't allowed to walk straight across any of the halls or open areas in the cadet area; they must go along the outside edges and conduct military facing movements at every corner. They run everywhere they go, as much out of necessity to get there on time as to obey the requirements of the fourth-class system.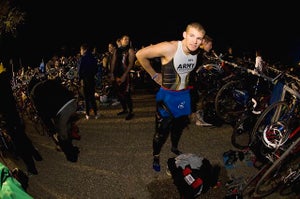 While Army and Navy have different approaches to achieving greatness in collegiate competition, Air Force has an entirely different definition of success. As the newest of the three programs, it lags behind its sister service academies in a couple of prominent ways. Army is coached by triathlon great Tony Deboom, the older brother of two-time Ironman world champion Tim DeBoom. Tony Deboom is a graduate who served as an infantry officer, with cycling support from Serotta, and Annapolis's Bill Edwards, a level III certified USAT coach. They have a successful legacy to draw from based on a longer history in the sport. Cadet Sullivan recently completed a year at West Point as part of the inter-academy exchange program, and admits that Army's program "is a whole other level" beyond what Air Force has. Participating on the Army team, he brings back a lot of lessons that will serve his team well. He was even able to get in on its sponsorship deal with Serotta, getting a bike at reduced price, complete with custom Air Force paint job.
Being the new kid on the block is familiar territory for USAFA, the youngest of the three institutions by about 150 years. Air Force coach and OIC Lt. Col. Freddie Rodriguez is thus Air Force's triathlon equivalent of Billy Mitchell, the famed maverick general who first advocated use of the airplane as a weapon. Rodriguez stresses the importance of triathlon to Air Force leadership as the service tries to figure out how to whip its airmen into better physical shape, a performance area in which the service dismally lags behind the others.
USAFA leadership refuses to excuse triathlon cadets from the intramural sports program, one of the few allowances given at West Point and Annapolis. This cuts the USAFA team's training time to half that of their peers. In the tradition of Mitchell, Rodriguez is undeterred and makes up for a lack of time and resources with technology.  Holding a master's in physiology from the University of Colorado and now serving on the USAFA faculty as a director of independent research, Rodriguez teaches the fundamental principles of training to cadets. "I try to teach them not to just accept some new piece of equipment or training plan without researching it. If you want to train smart, you have to do the math."
Indeed. For a recent senior thesis, Rodriguez had a cadet work through the equations to determine three-dimensional biomechanics using only two cameras on a test subject. It's all heady stuff, but apparently the Air Force cadets are more than up to the challenge. The team, larger than those of either West Point or Annapolis, maintains an average GPA well above 3.0. "Time is limited here, but they'll have more time once they begin their officer careers. I may not have the time to make them the fastest athletes, but I'll make them the smartest athletes. That will benefit them later."

Click the page numbers below to read the rest of the article.