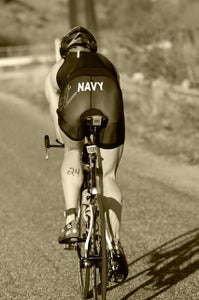 There's no end of pressure for midshipmen triathletes. Fifty-five cadets tried out last year for six positions on the team, which has limited slots due to funding. Triathlon is considered a "Club-B" sport at Annapolis, meaning it takes last priority over all other duties. That means every weekend has to be dedicated to training. Oskutis cites the added commitment as one of the factors in his breakup with his high school girlfriend during his freshman year. The "Dear John" letter is so common at the academies that those able to maintain their relationships are dubbed members of the exclusive "2 percent club," Oskutis explains the discipline involved to keep up.
"Whenever I went to military training somewhere, I took my bike with me. Whenever I went home on vacation, I took my bike. Everyone on the team sacrifices their social life for this. It's our bond with each other. If you want to be the best, you have to surround yourself with the best." No kidding. Not wasting any time or opportunities, Derek declared pro status at the end of his sophomore year. He also took on the challenge of majoring in robotics engineering in the midst of all this.
Certainly, all the punishment is brought on voluntarily, but that urge to be pushed to the very edge of one's abilities is indicative of the type of people who attend the service academies. "I don't know what it was, but I always knew I wanted to go to Annapolis," says Oskutis. "I wanted to give something back to society, but I really wanted the challenge. Triathlon was just the cherry on top."
The whole team shares that mentality, and uses it to push each other to greater success. Annapolis coach Billy Edwards never forgot the lessons he learned while competing as a midshipman, bringing them back to the team while continuing his own professional triathlon career and service as an officer in the Marine reserves. He emphasizes why the team needs to maintain intensity on all fronts. "As future officers, it is truly about endurance. I am trying to teach them that their training and endurance building will serve them as lean mean fighting machines. It sounds corny, but if you are tired, giving orders under pressure is now a difficult task. For an endurance athlete, you are ready for the worst and can focus on the important part of being an officer: decision making."

Click the page numbers below to read the rest of the article.