Written by: Jim Gourley
Jim Gourley reports on why the U.S. Military Academies are growing their contributions to the sport of triathlon by turning out stellar cadet triathletes.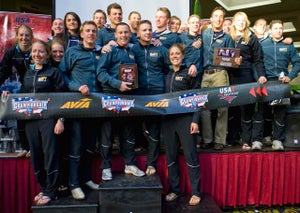 In their combined 425 years of existence, the service academies of the U.S. Armed Forces at West Point, Annapolis and Colorado Springs have produced three American presidents, 104 astronauts, more than 100 congressional representatives, senators and ambassadors, a handful of Nobel Prize winners and 156 Medal of Honor recipients. Through their halls have passed some of the greatest military leaders in history and the guardians entrusted to lead our nation's sons and daughters into battle. With all that under their belt, now they're adding some triathlon notches to it.
In the last five years, each of the schools approached the sport in manners as unique as their approaches to combat. The results have been dazzling. Navy has produced five professional triathletes and dozens of elite amateurs. West Point has established itself as a powerhouse team on the national collegiate scene, with seven USAT All-Americans and four cadets qualifying for the Ironman 70.3 Championships in Clearwater. Air Force has 54 Ironman finishers in five years and one of the most tech-savvy programs, sending graduates out to promote physical conditioning. All of this may seem par for the course coming from institutions with such brilliant legacies, but it is all the more impressive when you realize how much harder academy life makes it.
It's a major accomplishment just to get in the door at the academies. An applicant must have a strong academic background with evidence of extracurricular leadership and athletic ability. Applicants must be recommended by their U.S. senator or U.S. representative, who can only have a certain number of appointees attending each institution at one time. Even then, the average acceptance rate hovers at 10 percent of total applicants; about 10,000 to 15,000 apply every year.
Click the page numbers below to read the rest of the article.