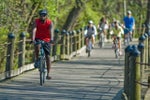 No. 9: Alexandria, Va.
Population: 138,621
Median Home Price: $386,000
Why it's on our list: If you follow the campaign trail as much as the bike path, then this city is for you. It's located just eight miles from the nation's capital, and in the mornings you'll find dozens of Alexandrians hopping on the Mt. Vernon trail and commuting into the city via bicycle. Considering the city's largest employer is the Department of Defense, we recommend you don't cut any of them off. Get your swim on in one of the city's six outdoor pools or head out for a run in the area's 950 acres of parks and trails.
Live here if: The abbreviation in front of your name is Sen., Gen. or Capt.
Don't live here if: Discussing foreign policy on a group ride makes you nauseous.
Click the numbers below to see the rest of the top 20.