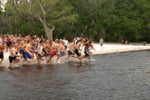 No. 8: Clermont, Fla.
Population: 23,476
Median Home Price: $113,700
Why it's on our list: This suburb of Orlando is quickly building a reputation as one of the country's true tri meccas. With quiet roads, rolling terrain and year-round training, Clermont has plenty of upside. It's a favorite of Jarrod Shoemaker, Lisa Bentley, Sara Haskins and Nina Kraft—just not in mid-summer, when Clermont gets pummeled with rain. Making rainy days bearable during the summer months is the National Training Center, which is basically Disneyland for triathletes. The NTC is a lot like your gym, only 20 times bigger with way nicer equipment.
Live here if: You like to train with other athletes but you don't like to stick to a schedule. Head to the NTC any time of day and you're likely to run into dozens of tri geeks.
Don't live here if: You're turned off by air that you can actually feel. Winters in Clermont are gorgeous, but the relative humidity doesn't stray far from 100 percent in the summer.
Click the numbers below to see the rest of the top 20.