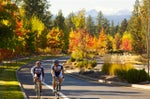 No. 7: Bend, Ore.
Population: 80,995
Median Home Price: $289,450
Why it's on our list: This northwestern city might be a cyclist's paradise. Add to that the fact that Bend has six microbreweries in a town that's only 32 square miles large, and we're all wondering why the hell we don't live there. Home to the 2009 and 2010 USA Cycling Elite Road National Championships, the Cascade Cycling Classic and the 2008 and 2009 USA Winter Triathlon Championships, there's a reason Conrad "The Caveman" Stoltz and ProTeam Astana's Chris Horner call Bend home. Nestled in between the Cascade Mountains and the Deschutes River you'll find more than 300 miles of trails to play on year-round. Did we mention the beer?
Live here if: You ride bikes so much that you've sewn chamois into all your pants.
Don't live here if: You're an Adidas fan. Phil Knight is a seasonal resident and Nike sponsors both Oregon State and the University of Oregon.
Click the numbers below to see the rest of the top 20.