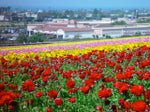 No. 3: Carlsbad, Calif. (and the North San Diego Area)
Population: 90,000
Median home price: $588,795

Why it's on our list: San Diego gets all the credit for being a tri mecca, but the city itself is congested for many multisporters. About 40 miles up the coast you'll find the City of Carlsbad as well as a ton of triathletes. Some of our sport's all-time greats like Michellie Jones, Paula Newby-Fraser, Scott Tinley, Heather Fuhr and Kate Major have all made San Diego's North County home for good reasons: The weather is unbeatable; the Pacific is way more exciting than a pool; and you can never run out of people to train with.
The terrain in and around Carlsbad makes it almost impossible not to add variety to your training. On the coast you'll find your flat roads, about 10 miles inland you'll find endless short-and-steep hills and about 40 miles inland you'll find punishing climbs like Palomar Mountain.
Live here if: You don't think 70 degrees and sunny skies would ever get old.
Don't live here if: You only race off-road. You can find some OK running trails near Carlsbad, but most mountain bikers will be disappointed with North County's lack of legitimate riding trails.
Click the numbers below to see the rest of the top 20.