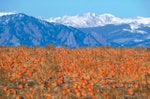 No. 2: Boulder, Colo.
Population: 103,100
Median home price: $545,000
Why it's on our list: We know, listing Boulder ahead of our hometown of San Diego, might get us stoned the next time we're biking down the Pacific Coast Highway. Perhaps Boulder's only drawback is that the town doesn't provide year-round outdoor training. From April to October, Boulder is simply the best place in the country to train—and the best place to find others to train with. With perhaps a higher concentration of multisporters than any other town in the country, there's always somebody willing to swim, bike or run with you. The trails are plentiful, the climbs are epic and the altitude will make you more fit than you thought possible.
Live here if: You're a true tri geek who can't get enough of the great outdoors.
Don't live here if: You're not cool sharing your serene hometown with 45,000 college students. Boulder is home to the University of Colorado.
Click the numbers below to see the rest of the top 20.