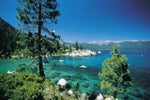 No. 12: Reno, Nev. (and the Lake Tahoe Area)
Population: 220,613
Median Home Price: $181,000
Why it's on our list: Reno often takes the brunt of many jokes, mostly because of Comedy Central's Reno 911 and the fact that the city used to tolerate prostitution. But Reno has undergone a huge revitalization over the past decade and is now an outdoor sports paradise. Casinos are being renovated into upscale condominiums, and it's definitely a buyer's market. When it comes time to train, Reno and nearby Lake Tahoe (it's about 40 miles to the north shore of Tahoe) offer plenty of variation. From trail running at Incline Village, Nev., to mountain biking in Kirkwood, Calif., to long rides through Reno's valley, there's more than enough to keep you occupied—and fit. With 14 ski resorts surrounding Lake Tahoe, winter is pretty fun too.
Live here if: You want that big city feel but you also want to be able to ride right out of your door.
Don't live here if: You take issue with the gaming industry. Reno has improved leaps and bounds since the '80s, but it won't be casino-free anytime soon.
Click the numbers below to see the rest of the top 20.