By Zack Vestal, VeloNews tech editor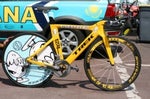 Everyone, including riders, spectators, the media, and the industry, knows that all eyes are on the Tour de France come July. If ever there's a time to do something special, be it a new product or a new paint job, now is the time.
Click the link below for the entire story.
"For the most part, the bikes, hardware, and wheels in use at the Tour are seen in public prior to the event — it would be challenging at best and foolish at worst to present an untested new bike to a rider at the season's most critical event."